TUXEDO RENTALS PRICES STARTING AT $88.00 
Walk-Ins-Welcome / dress you in minutes / WALK out WITH your well fitted tuxedo in minutes. 
USA HAND MADE CRAVAT AND  ASCOT NECKTIES. IDEAL FOR GROOM'S MEN ATTIRE OR TUXEDOS ACCESSORIES; FOR WEDDINGS, PROM AND FORMAL EVENTS.
I & A FORMALWEAR ACCESSORIES 
FOR FURTHER ACCESSORIES INFORMATION   PLEASE CONTACT US BY PHONE. OR E-MAIL US AT: goformal@gmail.com (305) 444-5451 or visit us at: 252 Miracle Mile; Coral Gables, FL 33134 (fifteen minutes from the Miami International Airport)
Attending or assisting a Convention in Miami? If you are attending a local convention or have a black tie function, I&A Formalwear can offer a fast, easy and convenient service to suit your travel plans. At your convenience submit your height, weight and measurements; your tuxedo will be delivered and ready to be picked up at your hotel Bell Desk. We also offer services to pick up your tuxedo after the formal event. I&A FORMALWEAR "go formal" service saves you the trouble of carrying a rental tux from your home town and returning it to the tux shop. We are centrally located ten (10) minutes from the Miami International Airport
Large Group Fittings and Conventions
I&A Formalwear accessories has been providing group fittings for large event groups in the cities of Las Vegas and Los Angeles, CA. since 1983. Our professional staff can outfit a large group or just a few people with the best formal attire and fast service for your formal event. We can arrange delivery of your entire group order to your business, hotel or convention site.
THE LOOK OF 2019 NEW CEREMONY ASCOTS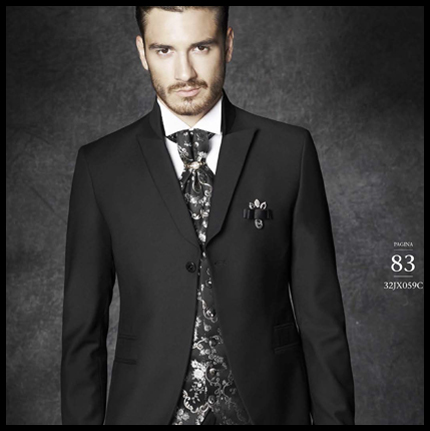 CARLO PIGNATELLI Ceremonia Suit and Accessories Made In Italy. Walk-Ins welcome and view the 2017/19 Slim Fit collection or Visit us at www.iaformalwear.com